When Your Student Budget is Unbalanced
If you've taken the time to create a student budget you may have discovered a gap between the money you will bring in and what you will spend during the school year. If this is the case you will have to come up with some alternative financing solutions. Solutions could include obtaining a part-time job, researching financial aid options like student loans, private loans or even obtaining a credit card.
There are many part-time employment options that can help you bridge the student budget gap. First you can look into work-study options that are awarded through a financial aid package. If work-study isn't the best option for you, get to know your school and surrounding area in detail. Create a list of the restaurants and retail establishments that you'd consider working for. Ask your professors for hints and recommendations for getting an internship the field you are pursuing. Sometimes paid internships in offices are available and you can earn much more than the minimum wage you might make at a retail store. You can also contact your school's career development center for tips. They can help you craft your resume and may know of student employment opportunities in the area.
Another popular financial tool in the college student budget arsenal is the credit card. Although credit cards can get some students into big financial trouble, they can also help those students who use them correctly. The key to proper credit card usage is managing your credit correctly from the start. Look for a low APR student credit card that offers rewards to members with few fees. And remember to always send the minimum payment required each month.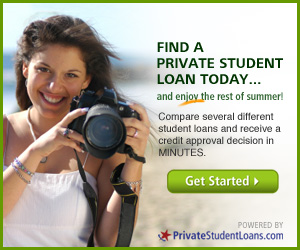 The last, but certainly not least, option you should explore to stretch your college budget further is a student loan or a private loan. Most times these loans can help you meet your school and living expenses while keeping your monthly payments to a minimum while enrolled as a full-time student. To find the loan solution that best fits your needs, you can visit the Student Finance Domain student loan comparison center. What makes these loans even more appealing than most credit cards is that their interest rates are generally lower and they may have payment deferment options that credit cards don't offer.