Compare Student Loans the Easy Way
If you need a student loan to finance your college education, you might be wondering which loan options are best for your unique situation. Before you start looking, it's important that you compare student loans against each other and fully understand their differences. Student Finance Domain can help you compare loans and ensure you pick the right ones for you.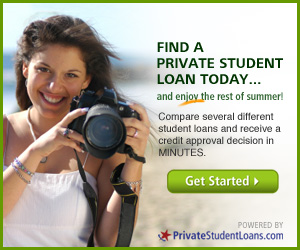 Your first step to determine which loans are right for you is to figure out how much you'll actually need to borrow. If you've applied for financial aid and have received award letters from schools it might be easy to quickly determine how much additional money you need to make up the gap between what you have and what you need. If not, you should figure out what your Cost of Attendance will be. This is an estimate of how much one year at the school will cost including tuition, room and board, living expenses, transportation, books and supplies. It's important that you take your time to figure this out amount properly, because many students and parents underestimate how much they'll actually need.
Next you'll want to figure out which loans you're eligible for. In order to see if you qualify for a federal loan, you'll need to submit a FAFSA form to the government. More information about this and other financial aid forms can be found in our Financial Aid section. Most students will find that they are eligible for various types of federal student loans. This is equally true for those students who don't demonstrate financial need.
The federal government offers a variety of student loan types, some need-based, some not. Some student loans can be subsidized, which means that the government pays for the interest while you are in school, during the loan's grace period once you graduate, and during any approved periods of deferment. One such loan is the Perkins Loan, which offers phenomenal interest rates for those who demonstrate great financial need. Other loans like the PLUS Loan are made to parents of students. In order to properly compare loans available from the federal government, see the Perkins Loans, unsubsidized Stafford loans, subsidized Stafford loans, and PLUS Loans sections of Student Finance Domain.
Another way to finance your college tuition bill and other college-related costs is through an alternative or private student loan. These student loan products are available from banks and other lenders for both students and parents. Loan options vary greatly from lender to lender. So you'll have to research which options work best for you. For helpful tips to help you compare student loans on your own see the private or alternative loan section of Student Finance Domain.
Once you've determined how much money you'll need, what you qualify for and what your total options are, you will need to choose what loans work best for you. Your loan comparison exercise should weigh the factors that are most important to you including deferment options for both federal and alternative or private loans. Deferment can make the difference between you having to work your way through college to keep up with accumulating interest payments, or being able to spend your free time studying or experiencing all that college life offers. Of course it's also critical that you compare student loan interest rates, fees and subsidization offers before you make your decisions.